The newest video calling App Duo has hit the android market as well as Google Play-stores. Google duo is a video calling app developed by Google, which is available for both iOS as well as Android Phones. The App officially was launched in the United States on Aug 16, 2016. It is a simple video chatting service only for two individuals hence the name Duo. The App is more likely to gain popularity with Android users for video calling purpose rather than Apple users. Some of the main highlights of the app are:
Firstly, it is supported by 720p full HD video quality for enhanced clarity.
The app is completely optimized to perform efficiently in low bandwidth mobile networks.
It uses WebRTC and QUIC over the now outdated UDP.
An interesting feature of the App is "Knock Knock" which is exclusive only to Android users the unique feature shows a preview of the caller even before the receiver takes the call.
It has default end-to-end encryption
It is supported by Google Assistant.
It can be easily used only with the help of phone numbers in your phone contacts list.
It can be automatically switched from Mobile Data to surrounding WiFi.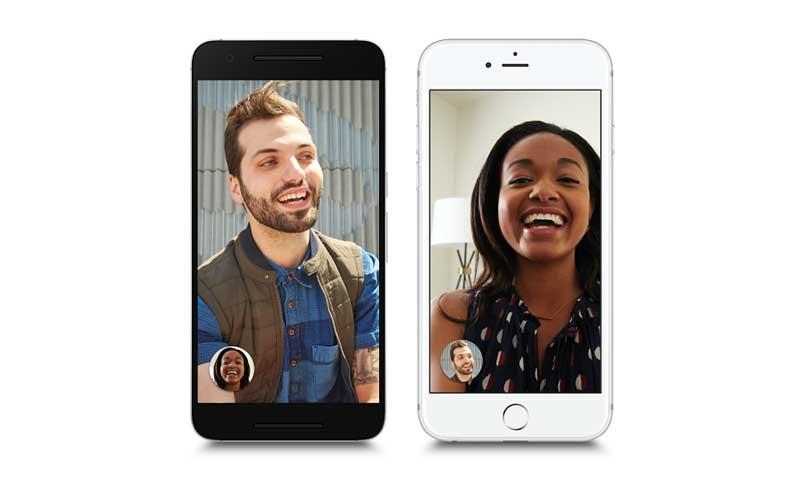 The Duo App has a super simple user-friendly interface. When making a call you can see all the essential icons required to start your video call along with your recent contacts. There is a little circle to the left where you can see yourself when making a call, at any given point of time you can mute the call, switch the front and rear cameras or hang up on the call. You can see the caller's video on your screen and vice versa. Tapping on the little circle can enable the front camera and you can switch.
With the presence of so many video-calling apps, what makes duo really stand out is the fact that it is an exclusive video calling app only and yes, it is different from Hangouts. While hangouts is more concentrated on the professional front with group chat and multi-video calling features and supports laptops, desktops, phones and tablets. Duo only supports video calling on phone or Tab.
Another point of differentiation is that unlike hangouts it can reach out to people via their phone numbers, no, not even Gmail is required. This would make it simpler as people need not login to their accounts or need to sign up on a new device. Finally, the most important feature that it comes with a default end-to-end encryption makes your data secure from any third party, even Google for that matter.
On a personal note, the app runs really well on a good network or a WiFi, the Duo App has entered a tough competition with so many compelling Apps like Facebook, Messenger, Skype and Hangouts. Yet it can make a mark with its simplistic approach as a clear-cut video calling app to make your private moments just between the Duo.
Google Duo Review – Clarity with Simplicity Mated Together
The following two tabs change content below.
Sanjeet Veen Rana is an expert review writer, who provides inputs on technical and non-technical information about an electronic device in a particularized way to help the consumer take a right decision. Being a software development engineer, he has a keen knowledge over technological advancements that can boost the performance of an electronic device and the aspects that can serve better and stand long.
Latest posts by Sanjeet Veen Rana (see all)